Tue, 11/23/2021 - 16:47
A RECOGNISED KNOW-HOW BASED ON BIM AND DIGITAL
GL EVENTS, PIONEER IN THE DESIGN AND CONSTRUCTION OF TEMPORARY STRUCTURES USING BIM
While IT and digital tools have considerably revolutionised many areas such as industry, tourism and transport, the building and public works sector has not been left behind. Since its beginnings almost 50 years ago, BIM has gradually become an essential part of the construction process.
So much so that a competition is organised each year by Le Moniteur and Les Cahiers Techniques du Bâtiment to reward the best projects that use it. GL events also received the Jury's "Coup de Cœur" award at the 2021 event with the Grand Palais Éphémère, an iconic modular and temporary structure designed to host events of the Grand Palais during its renovation period. This distinction rewards more than 4 years of effort to position the group as a pioneer in the design and construction of temporary structures using BIM. A real competitive advantage in a sector where completion times are very short.
INTERVIEW WITH PAUL SCHOLLHAMMER - HEAD OF GRANDSTANDS ENGINEERING DEPARTMENT
| | |
| --- | --- |
| | "We decided to start our BIM transition at the beginning of 2017, motivated by customer requests and the opportunity to improve our outputs and deliverables. The 2018 Commonwealth Games in Gold Coast (Australia) was the very first major GL events event where the BIM capacity and the knowledge to deliver 3D models was rewarded. This challenge has led us to explore and discover possibilities offered by the Autodesk Revit software which was applied to our construction business. From there, Revit and the BIM collaboration have taken a major position in our engineering process." |
THE BIM METHOD AT GL EVENTS 
GL events have integrated the BIM process through the AEC Collection from Autodesk (Architecture, Engineering & Construction that include Navisworks, Inventor, Revit, AutoCAD, 3DS Max, Recap 360°) and Enscape for permanent building design and construction, specific projects and sport facilities.
This digital tool, under the supervision of our BIM Manager, allows us to produce graphic and digital outputs from the design stage to the final delivery (aerial views and detailed 3D views, section plans, bill of quantities and volumes, power balance, etc.), to deliver our projects in a very short time and significantly improve the quality of our delivery.
A LOOK BACK ON SOME CONSTRUCTION PROJECTS
This has enabled us to complete event construction projects, each one more innovative than the last:
2018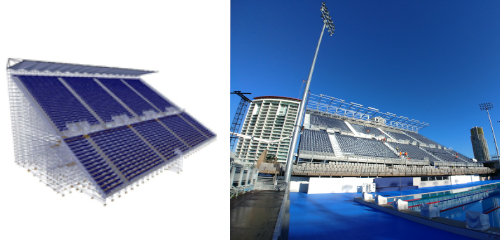 In 2018, 48,000 grandstand seats were installed for the Jeux du Commonwealth Games of Gold Coast in Australia, including 11,579 at the swimming venue and 14,225 at the athletics venue.
© GL events – 2018 – 11,579 grandstand seats built for the swimming events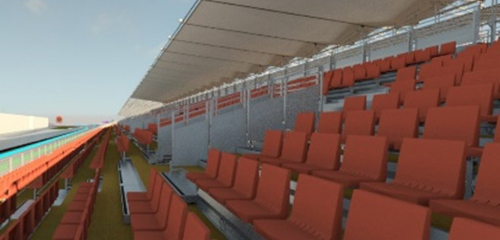 In the same year, the Group installed 51,000 grandstand seats at the Grand Prix de France - Le Castellet: 41,000 seats in semi-permanent stands on long-term rental and 10,000 seats in temporary stands.
© GL events – 2018 – PHOTO GPF1 2021 from Revit
2019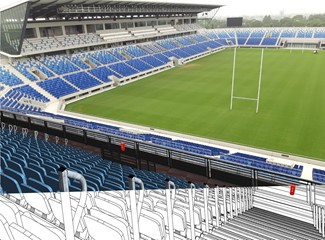 In 2019, for the Rugby World Cup in Japan, we built a 1,712-seat grandstand behind the existing concrete stands of the Kumagaya stadium, produced 2D and 3D assembly drawings of the "IKEA" type for foreign fitters who were not familiar with our technology, as well as cuttings from Revit for the preparation of the site's stock.
© GL events – 2019 - KUMAGAYA STADIUM
2020 
In 2020, we modelled the brand new grandstand at the Chambly Stadium.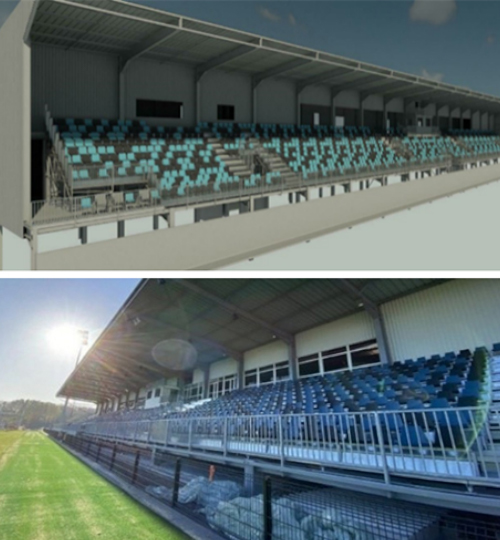 © GL events – 2020 - Chambly Stadium
2021
And more recently, we delivered the Grand Palais Éphémère, an iconic 10,000 m² building that can be fully modulated and dismantled. We have coordinated all 19 packages from July 2020 to May 2021. A technical feat achieved in record time thanks in particular to BIM.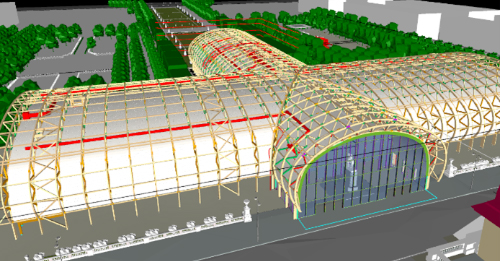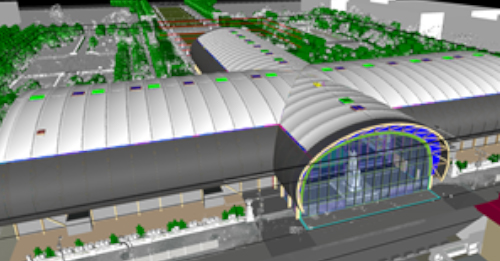 © GL events - 2021, Grand Palais Éphémère
- BIM EXE summary of the 19 packages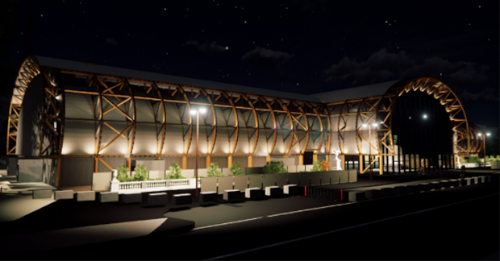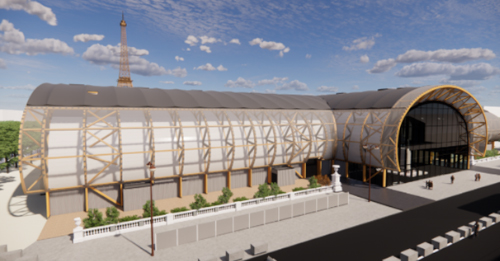 © GL events – 2021, Grand Palais Éphémère
(MOA RMN, Architecte Wilmotte et Associés)